I've been wanting to write a blog post about Rodney K Press for some time. The name I've chosen is close to my heart and hopefully helps explain what the company is all about. When I set out to create a publishing company, I knew I wanted to pay homage to my two greatest writing influences: my maternal grandfather, Rodney Foss and my mother Luann Kay (Foss) Rowell.
This one is for you, Grandpa.
My grandpa Rodney was an incredible guy. The Valedictorian of his class, he was just as witty as he was brilliant. He was constantly finding ways to make me laugh. He used to send me letters, often with a funny illustration of his 'peg leg' depicted (he had a prosthetic leg due to diabetes). He would also let me prick his finger with the glucose meter, then pretended it really hurt to make me giggle. He was self-deprecating, gentle, and warm- qualities I've always tried to emulate (and so much like Grizz's spirit- he would've loved him). He and I had a special connection. In retrospect, I'm sure it was partly due to the fact that we were kindred spirits. He passed away when I was only 10 at the age when grandparents are such a big part of your world. I remember his wake and funeral so vividly. My best friend and her mom drove to Virginia to be there by my side knowing just how important he was to me.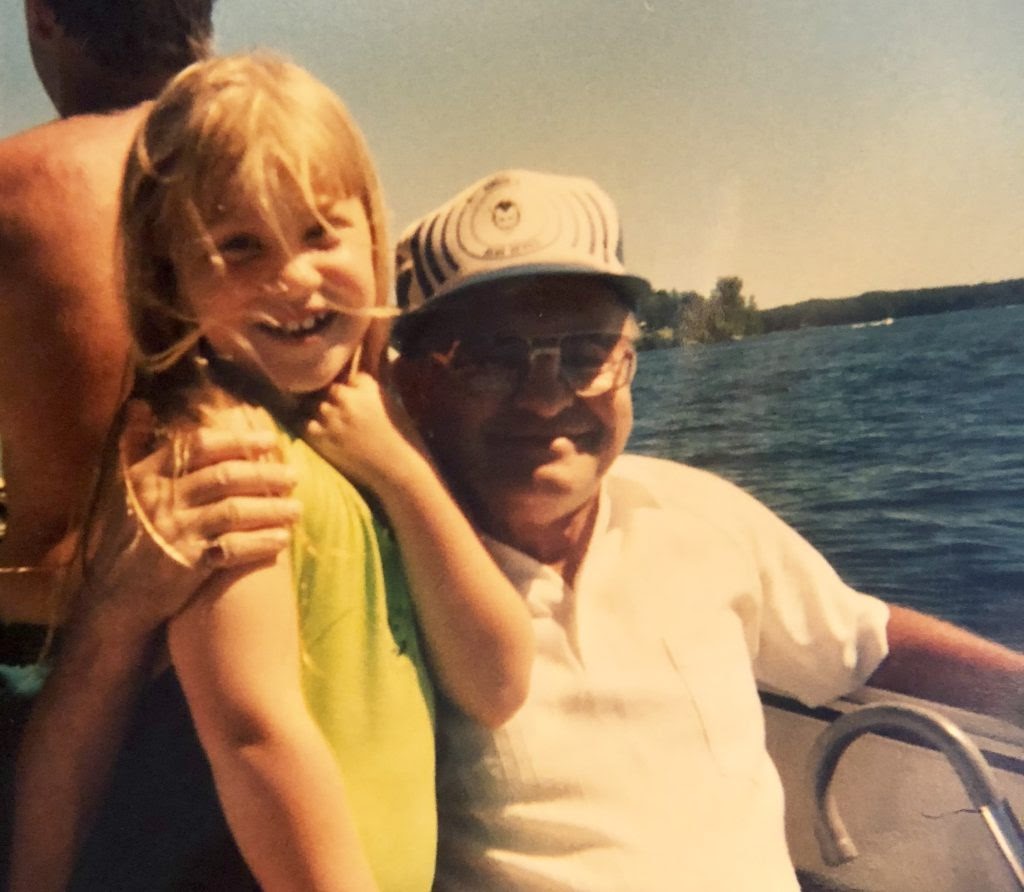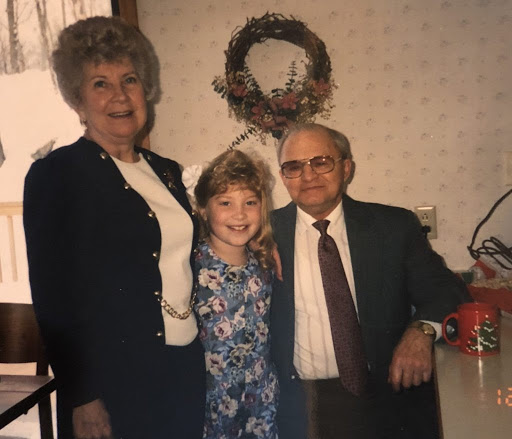 (Can't you just tell how sweet he was??)
Rodney endured a lot of hardship. He lost his mother when he was only 5 years old. What helped shape him, though, was that he was brought into a foster family where his foster dad had a prominent position in the Virginia, MN school district. Consequently, Rodney spent his evenings surrounded by adults discussing education and having intellectual conversations about a variety of topics. He loved being surrounded by this and it increased his desire to learn. It also fueled his love of books and writing.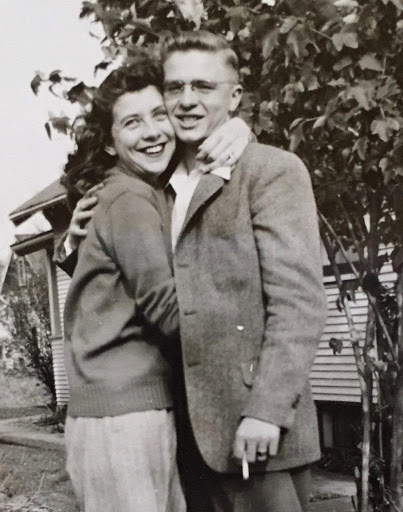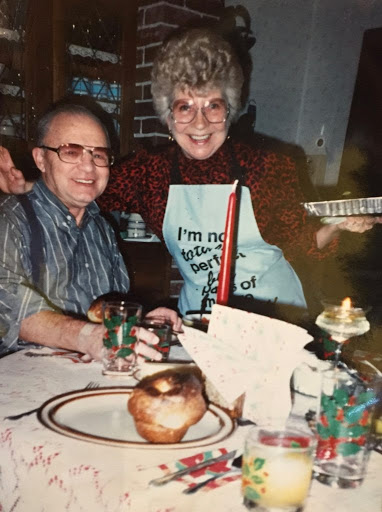 Rodney and Dorothy Foss
(How cute were my grandparents?!)
When my mom's little sister Linda turned 3 months old, they discovered she was blind. The community came together to raise money for an operation for Linda. Wanting to express his gratitude, Rodney wrote a poem from the perspective of his baby daughter and sent it to the Virginia newspaper as a thank you. I had heard the story but I don't know if I had ever seen this before until my most recent visit home. Seeing his writing and his cadence which is similar to mine left me feeling so connected to him and so rooted. Then tears and more tears.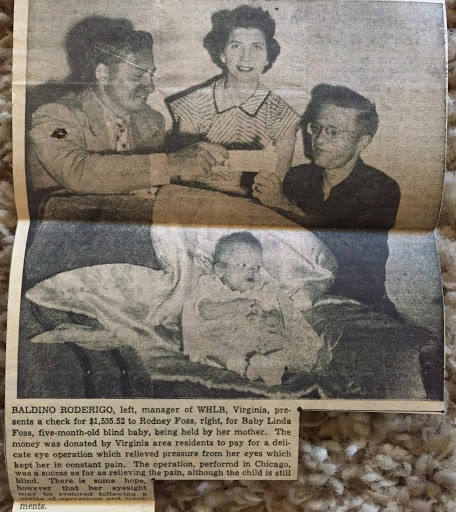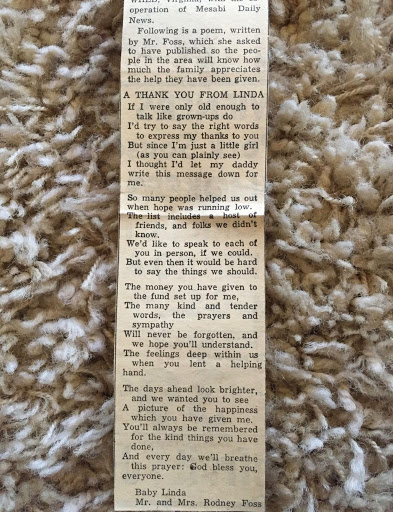 Some of my fondest memories of Grandpa were the letters he sent to us. He would write to simply say hello. When we were away at camp for only a week, he sent multiple letters, signing off with something like 'Well Grandma is giving me the eye for not helping her clean so I'd better go.' He had his own signature handwriting written in all caps. It was his trademark and I've always loved it. I knew I wanted to incorporate his handwriting in the company logo. When I searched high and low for letters that he wrote to me when I was younger, I couldn't find any. (I'm still hopeful they'll resurface someday.) However, my mom was able to track down a recipe he had copied in his handwriting.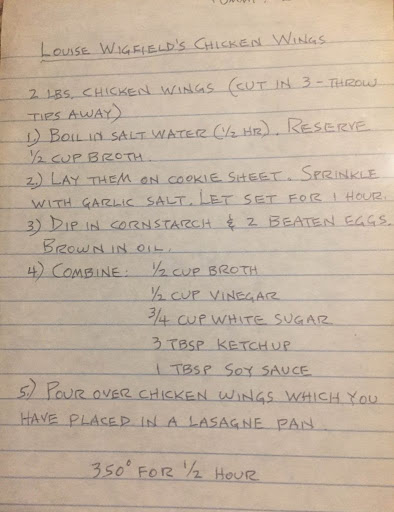 (Bonus: Thanks, Louise for the recipe!)
A HUGE Shout out to Mary Jones Snell of Be Media for taking this recipe and developing a logo that is reminiscent of his handwriting. And a big thanks to Megan Erickson Kellin for partnering us together.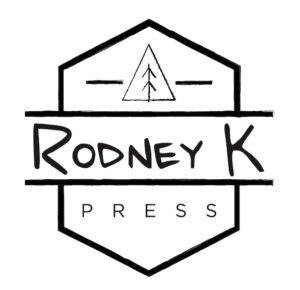 My mom got a woodburning set for Christmas one year. She fondly remembers working on projects with my Grandpa. So in addition to publishing books on the website, I carry handcrafted wood decor that corresponds to the books I'm publishing. I've been fortunate enough to partner with the amazing gals at Hagen and Oats and Family Laser. (Sidebar: having all women put this together has been icing on the cake). Each handcrafted piece has a woodburned Rodney K Press stamp on the back.
The Home Collection.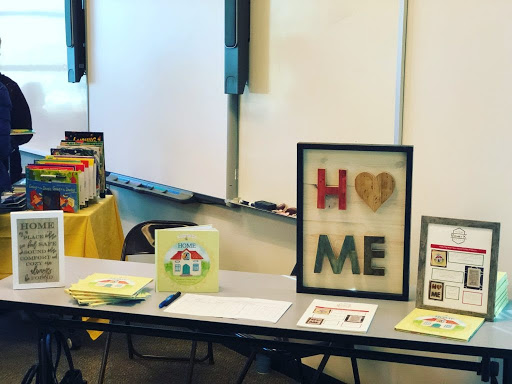 Before I shared my first blog post, I was having cold feet. We were at my parents' house for Christmas and I had been feeling anxious about beginning to promote what I was doing. I had been praying for a sign that I was on the right track- some signal that I wasn't in left field and should continue pursuing writing and publishing.
Gary and I were in the basement with the kids and a hymnal fell from the top of the piano. Normally we would look to our Taz of a toddler as the culprit, but he wasn't anywhere near it. The hymnal fell face up and I had a gut feeling it wasn't an accident. Gary and I exchanged quizzical looks and he bent down to pick it up. I stopped him and asked him to look at what song it had opened to.
'Oh, Little Town of Bethlehem.'
That was my Grandpa's favorite Christmas song.
Of course, it could've been a coincidence, but even Gare, who is typically a skeptic, was taken aback. Besides, I have felt too many signs over the years to pass them off as anything but just that and have learned to pay attention to them.
I've had a handful of experiences that have really affirmed who I am (studying abroad, marrying my best friend, becoming a mom, working with at-risk teens). Delving into why I am a writer and putting this together is undoubtedly one of them.
Stay tuned for Part 2 of Behind Rodney K Press 
Visit Rodney K Press at https://rodneykpress.com/